Golfing with Winnipeg Blue Bomber Alumni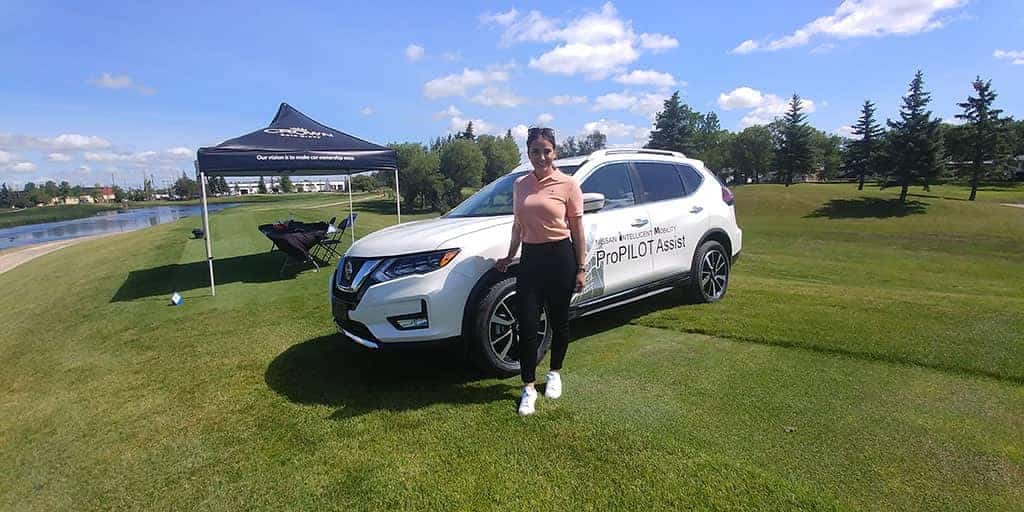 The perfect afternoon occurred today for Crown Nissan at the Winnipeg Blue Bomber Alumni Golf Classic. This years event was hosted by the Glendale Golf and Country Club. This hidden oasis featured manicured lawns and beautiful ponds were staffed was by some of the friendliest people in the city.
Located at the top of a hill, Hole 13 was stationed by Crown Nissans staff. Crown Nissans hole was easily seen thanks to the Winnipeg Blue Bomber themed Nissan Titan and featured a luxurious Nissan Rogue waiting to be won by achieving a hole-in-one.
Laces were tied and clubs were shined at the Blue Bomber Alumni Golf Tournament this year. A warm welcome from the association kicked off the afternoon around 12:30 p.m. encouraging golfers to go out and have fun.
A light breeze was battled by the golfers, but none of the less, great games were played. Crowns castle on the hill was reportedly one of the trickiest holes on the course. The tricky hole has been longed for by Glendale Golf and Country Club members for decades. The long path to the red flag teased the Nissan Rogue lovers.
While the Rogue was left to sadly rogue home alone, four tickets to July 27ths Blue Bomber game against the Toronto Argonauts were still available to be won. A red box shone brightly under Crown Nissans tent, waiting for golfers to enter their names to attend Fridays game.
Each foursome who stopped by Hole 13 enjoyed the sunshine on their faces and the smell of summer. Crown Nissan employees were entertained by wonderful conversations under the tent. Each visitor, golfer and otherwise, had a story to tell. All who stopped by was in good spirits, hopeful to win the beautiful Nissan Rogue.
Crown Nissan enjoyed a day in the sun thanks to the Winnipeg Blue Bomber Alumni Association. Warm weather and great conversations took center stage at this years golf tournament instead of the sport. Even though the Nissan Rogue was not won, golfers enjoyed themselves at the tournament.