Burgers R Us Visits Crown Nissan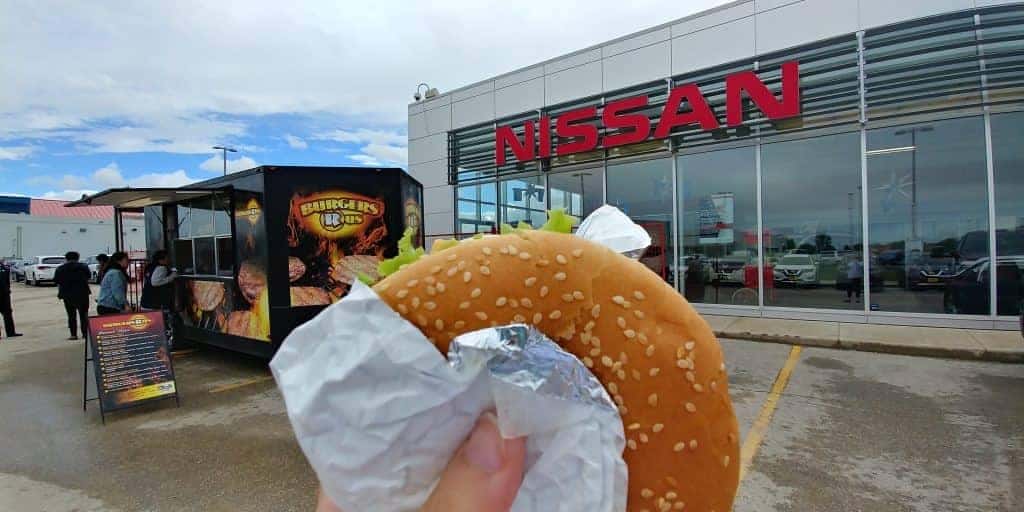 Crown Nissan employees raced to lunch this Tuesday thanks to Nissan Canada. Surprised with a food truck, employees chowed down on specialty burgers from Winnipeg's own Burgers R Us.
"I think I was one of the first people there," said Ron Konchukovskyi, a salesman.
Food trucks don't typically belong in the parking lot of a car dealership, but Crown Nissan showcased a different type of vehicle in their parking lot today. Visited by Burgers R Us, Crown Nissan employees were treated to a free lunch from Nissan.
"We got an email about a week or two ago about lunch. We didn't know what food truck it was though," said Ian King, who works in the service department as a Parts Advisor.
Companies renting food trucks for employees is not uncommon. Burgers R Us usually visits different companies each week.
"I think last year around this time we had poutine," said King.
The rainy weather did not put a damper on the hungry bellies of Crown Nissan. Staff members participated in the free lunch being served in their very own parking lot. The long line up was similar in length to a Friday night at the gas station.
The food truck may have only been here for an hour, but it warmed the bellies of all the rain-soaked Crown Nissan employees. The Bacon Cheeseburger was by far the most popular choice. Clad in raincoats and rubber boots, employees enjoyed some classic backyard cuisine. While the rain prevented a picnic style of eating, Crown Nissan employees watched the rain safely inside from their large glass windows, chowing down on their burgers.